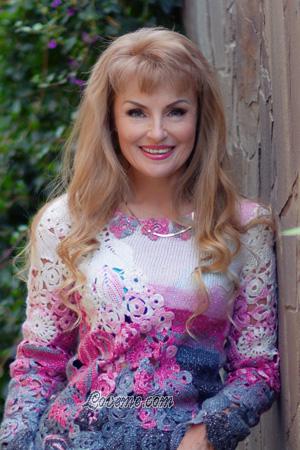 ID: 175802
Olga
Ukraine
City:
Kharkov
Age:
55
Zodiac:
Aries
,
rabbit
Weight:
121lb, 55kg
Height:
5'6", 168cm
Eye Color:
Gray
Hair Color:
Blonde
Marital Status:
Divorced
Children:
2 - boy, 27; boy, 27
Religion:
Christian (Orthodox)
Smoker:
No
Drinker:
No
Education:
University
Company:
Private
Job Title:
Assistant Professor
Sports:
Aerobics,
Swimming
Hobbies:
Traveling
English:
fair
Languages:
Ukrainian (excellent),Russian (native)
Self Description: I would like to take a chance to share my feelings, emotions, family and life with you and end up my search. I am a realist; I know who I am and what I can. I am financially secured and like to find a nice man with a good soul. I am a feminine and energetic woman so we will have fun. I live an active lifestyle. I like to live an experience-based life where I try my way. I am a reasonable person and still naive, fragile, sensitive, and fearful. I am a strong woman, I will not be scared to overcome life's obstacles, but at the same time I am not afraid to be weak with my man, because I will know that my true man is with me, who can understand me. I don't believe that age numbers determine the unconditional love and kindness one can have for another individual. In fact, I don't feel or look on the inside, nor the outside, like a woman of my age physically, emotionally or mentally. I've lived awhile and I can assure you that within that time I have learned how to treat! a man like yourself as a Real Man and I would never play with your heart.
Comments: It would please me if we could exchange some letters and discover if we have the same values, in reference to relationships. I also wish to meet, so I can look into the eyes of 'that' special man I meet here and discover if we are compatible and that special bond is present. I am serious in my search. I do hope I will find him very soon and my search will come to an end. I'm not looking for a pen pal but a best friend, lover and husband, to have a wonderful life with. I want a very special man in my life. I want someone to share the gifts that life has given all of us. I am serious in finding my other half to share a happy life together. I知 looking for a strong man who likes to be the leader in a relation with a woman. He must be reliable, powerful and family-oriented. Talk to me and you値l see if I am the kind of woman to change your life to an awesome wonder filled with love, attention, affections, sincerity and respect. I知 honest. No lies, no deceit, no secrets, But to build a relationship on respect, truthfulness, treating each other in love. So I ask you to be bold, do not fear, be yourself, relax and have fun!